Regular price
$129.00 USD
Regular price
Sale price
$129.00 USD
Unit price
per
Sale
Sold out
SPECIFICATIONS
Brand Name: FeiyuTech
Feiyutech Model: Pocket 3
of Axes: 3-Axis
Titling Angle: -95° to +50°
Rolling Angle: ±45°
Panning Angle: -220° to +40°
Origin: Mainland China
Configured for: SMARTPHONES
Communication: WIFI
Communication: bluetooth
Type: Stabilized Handheld Camera
Package: Yes
Feature: Following the shooting mode
Feature: Face Recognition
Certification: CE
Max Controllable Speed: 180°/S
APP Supported Languages: Japanese
APP Supported Languages: French
APP Supported Languages: German
APP Supported Languages: Spanish
APP Supported Languages: Portuguese
APP Supported Languages: English
APP Supported Languages: Russian
App Setting: Yes
Vertical Shooting: No
Support Remote Control: Yes
Charging for Mobile Device: No
Weight (g): 86-159g
Size: 46.5*32.6*60.3mm
Material: Aluminum
Camera Integration: Yes
Image Sensor: 1/2.3 CMOS
Charging Time: 1.5h(5V/2A charger)
Video: 4K
Effective pixels: 12 million
ISO Range: 100~3200
Audio Output: 48KHz, AAC
Supported File Formats: FAT32, exFAT
Capacity SD Cards: Micro SD maximum support 512G
Truly Free of cords and wires, Feiyu Pocket 3. This pocket-sized petite gimbal camera is the first of its kind, in terms of size and versatility. Its detachable handle transforms it into a multi-purpose, go-anywhere mountable camera.
Pocket 3's cordless gimbal detaches easily from the remote control handle. And the gimbal camera can be used separately with Feiyu Cam APP.
Magnetic installation to unlock more shooting angles you can't imagine. Record every breathtaking moment by mounting the gimbal or the handle anywhere you like—no more hassles of holding the handle all the time.
Simply attach the camera to a helmet, car roof, or any magnetic surface and control it from the handle with Feiyu App in your hand to achieve the best filming angle.

4K offers four times higher quality than regular 1080P.
The higher frame rate video can capture a broad range of actions and is especially geared to capturing fast-moving objects.

Powered by the industry-leading Sony IMX577 1.55μm 1/2.3" CMOS Image Sensor, the camera has a 4x digital zoom.
With WDR, realistic color reproduction, and noise reduction, Pocket 3 automatically makes shots amazing in any light.
WDR enhances image quality, restores details, and increases the layer of colors to make your video more vivid. The HDR setting is especially useful for scenes that include shadows or overly bright areas.
Traditional shake and jitter are effectively eliminated with the unique 3-Axis Stabilization System of the Pocket 3. You'll notice the difference in the smooth movement and sharply focused details of your footage.
Choose between Super Wide/Wide/Narrow Angle to get the original or Distortion Corrected shots.
Always keep you or the object that you are following in the image with the 130° Super Wide Angle Lens. Never waste a second of the footage you filmed, so you'll never miss any amazing moments that may never happen again!
The Breakpoint-Resume function allows you to pause filming temporarily, then resume the filming at the breakpoint.
Just start shooting, pause it when you need to, and restart it. This gives you the ultimate incontrol and immediacy, plus you'll save time editing.
No more blurry faces in the action shots. Pocket 3 has face tracking which will move as you and your friends move, keeping objects in-shot and sharp.
Using the AI ObjectTracking function, Pocket 3 will automatically follow the moving object, allowing you to easily record the movement process.

Want a spectacular wide shot, maybe of the entire cityscape? The 180° panorama of Pocket 3 captures it all. And never miss someone in a group selfie with the 3x3 panorama. You have total control – you simply choose the setting and CLICK!


You can connect or detach the handle and camera at any time. Easily control the camera with the joystick and buttons to capture every breathtaking moment.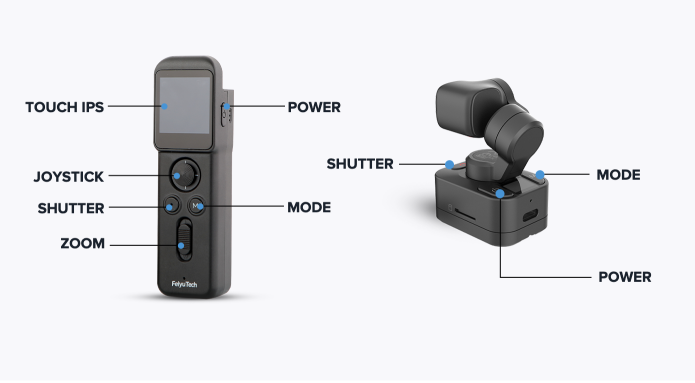 Simply Slide Up, Down, Left, or Right, to control Pocket 3. You'll notice the response time is super fast and you won't feel any delay. No need to worry about misclicking either,  with the screen's well-designed icons that fit the screen size so you can select the setting easily with your finger.

No more selfie stick distance issues, where all the buttons you need to adjust the shot are inconveniently at arm's length along with the camera! Traditionally, you have to interrupt your shooting to pull the camera close to you to change settings.
With the world's first cordless design of Pocket 3, you're holding the controls while the camera is detached and at the perfect shooting angle. Plus, you can preview the shot from the screen on the handle!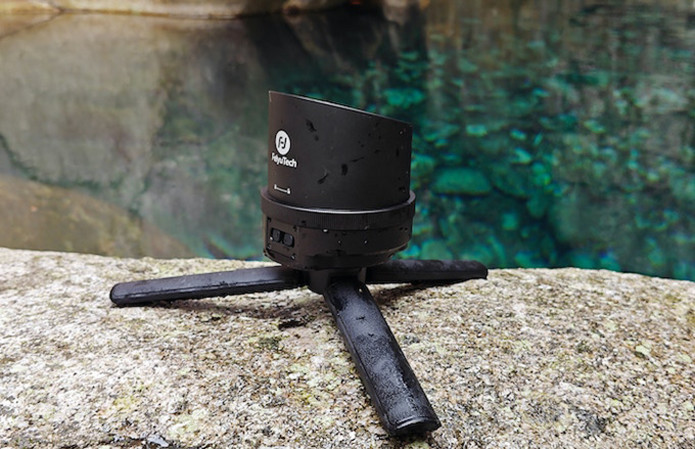 Explore the underwater world and capture its beauty with Pocket 3 and a waterproof case. With an IPX8 waterproof rating and a mini tripod for stability, you can take stunning still images and time-lapse photography at depths of over 20 meters.
Perfect for deep-sea diving, snorkeling, or pool fun, our camera helps you capture every moment. Start your underwater photography journey with us!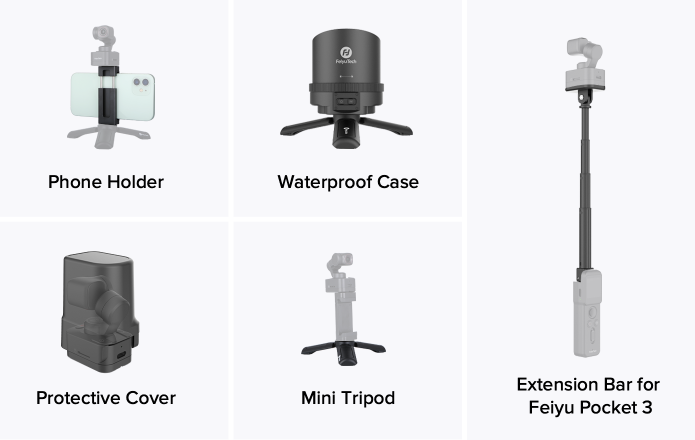 In addition, the expansion base of Pocket 3 also enables compatibility with various GoPro accessories, which opens up a world of creative possibilities for users.

Pocket 3 comes with built-in Wi-Fi. You can connect Pocket 3 directly with your smartphone.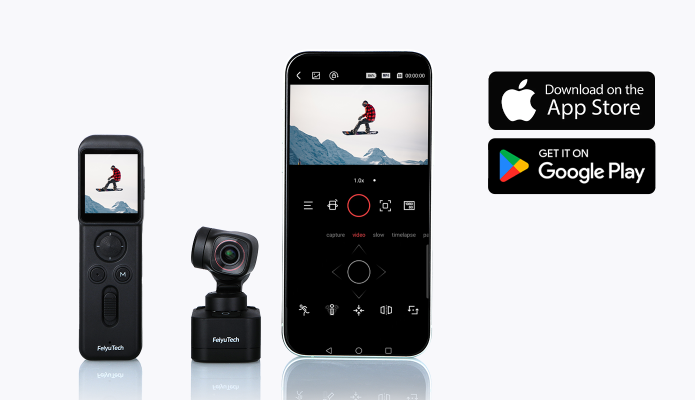 Feiyu Cam APP not only allows you to control Pocket 3 with the gyroscope of your mobile phone but also provides video and picture editing functions.
Ability to download photos or videos in time and share them on your social media



Pocket 3 weighs only 159g (86g+73g) which makes it highly portable. This lightweight and compact gimbal can go with you anywhere without any lengthy preparation or costly equipment bag. Just grab your Pocket 3 gimbal camera and go!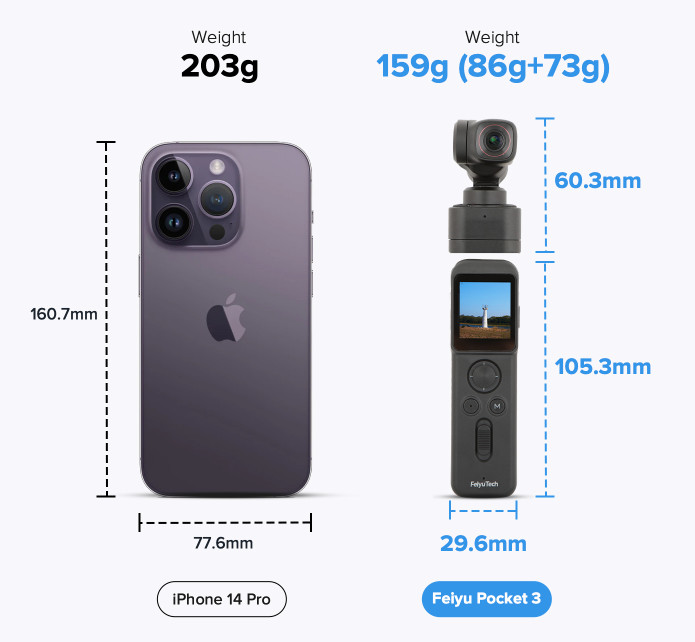 Supports micro SD card up to 512G.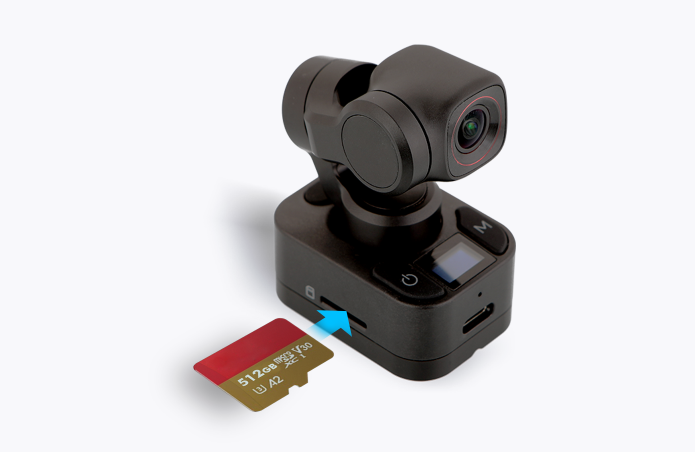 If you purchase the bundle, you will get both the Pocket 3 Gimbal Camera and Remote Handle together. If you only purchase the Pocket 3 Gimbal Camera separately, you can control it through the APP.
Share
View full details